We're not here to compete with the newspaper classifieds, because let's face the facts; although the internet is very popular, newspapers are not going to be obsolete any time soon. Print distribution of the Jamaica Gleaner and the Jamaica Observer and other popular newspapers will continue to dominate our offline news consumption way into the future.

This means that people will continue to use newspaper classifieds for some time to come, and we at PropertyAdsJa.com fully realise this. We want you, the advertiser, to always use the best means available to you to advertise your property, however we just want to enhance that best way.

A normal newspaper classified ad has done the job adequately for as long as they've been around, and we think they still do a great job.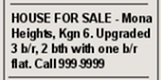 Just use PropertyAdsJa.com with your newspaper classified ad. Here's how :
Take some great pictures of the property being advertised in the newspaper
Signup with PropertyAdsJa.com
List the property being advertised, and upload the pictures of the property
You get a free URL, eg.

propertyadsja.com/abcd

for each property you list
Use the free URL with your classified ad!

Persons browsing the newspaper classified ads can now view your property online!